Second win for Janja Garnbret in Kranj and first podium for Luka Potočar
Olympic gold medallist Janja Garnbret won the 31st World Cup gold medal of her career and her second at the IFSC Lead World Cup Kranj. Young Luka Potočar, who's having an excellent season, claimed his first podium finish. "From the semi-finals on, the Zlato Polje Sports Hall hosted another wonderful event. Six Slovenians in the finals! That's truly incredible," said Luka Fonda, Slovenia Climbing Team coach.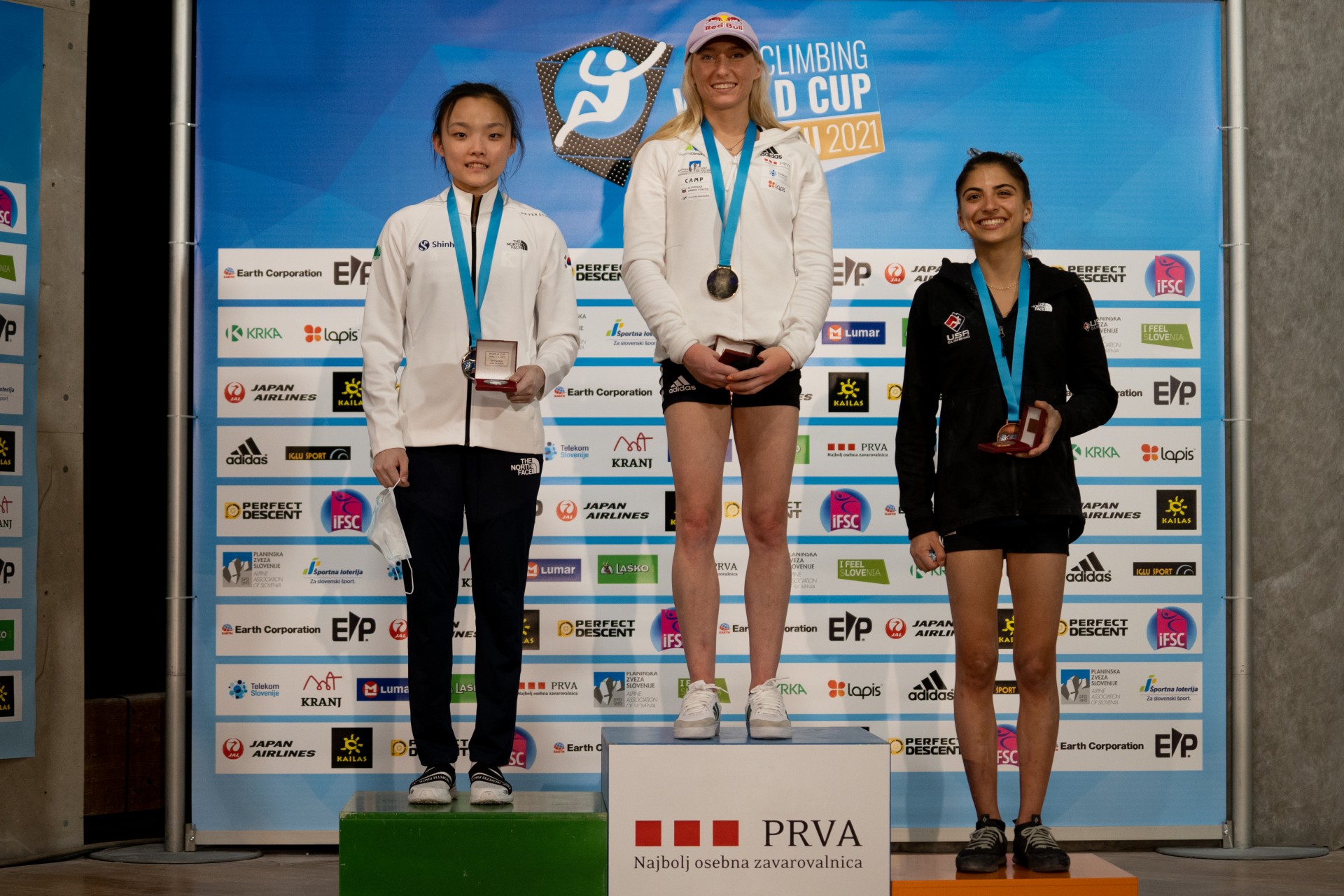 The atmosphere in the packed Zlato Polje Sports Hall was exceptional; this is, after all, a special year for sport climbing. Fans gathered in numbers to cheer for the Slovenian athletes, especially the Olympic champion and the best competition climber in the world,
Janja Garnbret
. The 22-year-old phenom showed that she's still motivated, even though her Olympic gold medal means that she's already won almost everything. Janja Garnbret, who's won in Kranj before, secured the tenth gold medal for Slovenia in the Zlato Polje Sports Hall. »I
didn't know it was win number ten, so I feel especially honoured. Considering the bad experience I had here in 2019 when I didn't make the finals, I really enjoyed today's climbing, especially in front of such an enthusiastic crowd. I was able to relax. I never gave up. I messed up my sequence a little bit in the middle part, but I wasn't too worried. I still can't believe that I've won the overall Lead World Cup title since I've skipped two events. This is just a bonus. It may seem that this is just another win, but that's not true. I'm happy for every gold medal and each one is special
.«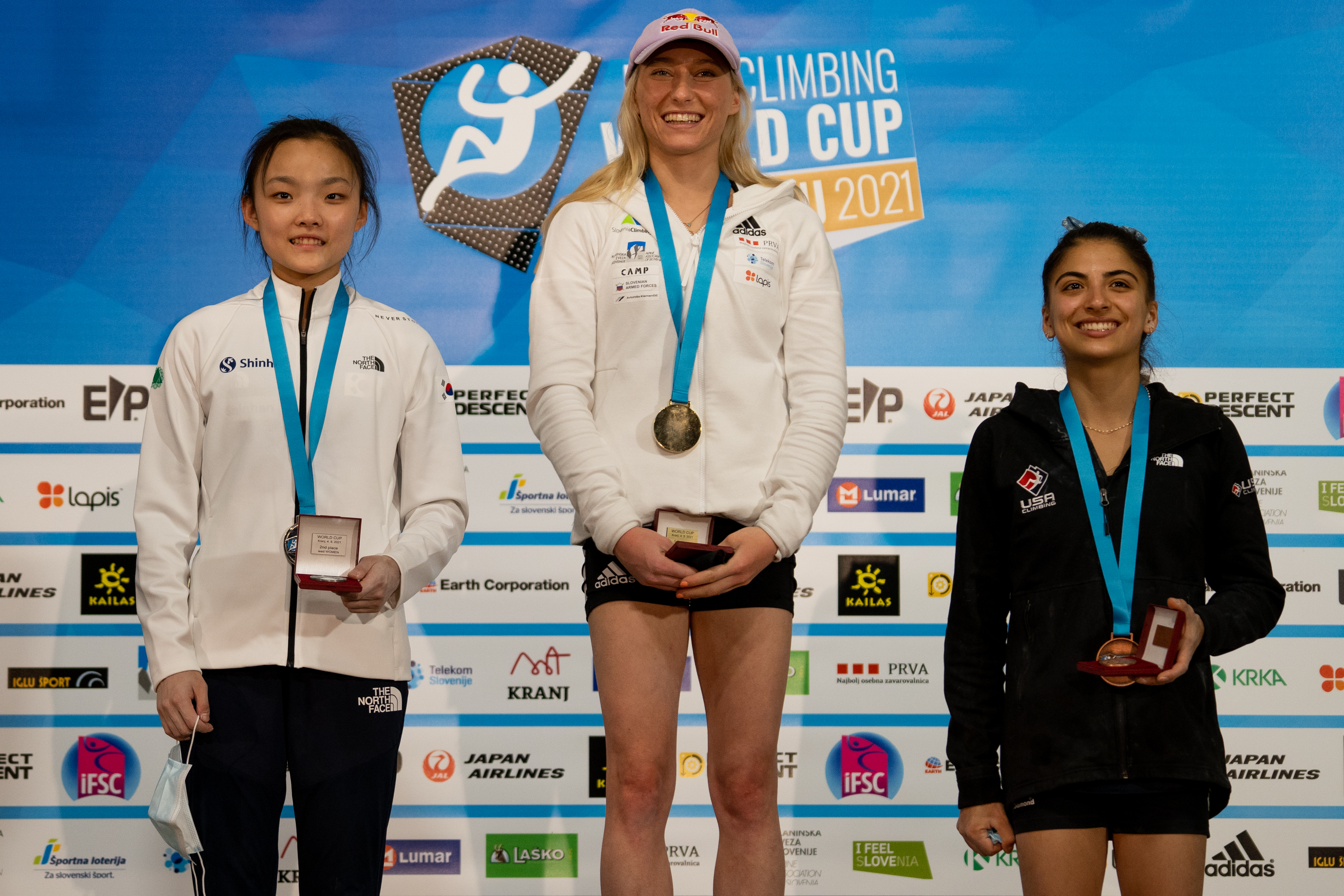 Along with Janja, Vita Lukan and Lučka Rakovec also made the finals. Vita finished fifth and Lučka sixth. The silver medal went to Chaehyun Seo from South Korea and Natalia Grossman (USA) won bronze.
In the men's event, Japan's Higuchi Masahiro secured the win, followed in second place by 19-year-old Luka Potočar, who won his first-ever World Cup medal after reaching his first final last year. »This was the best competition of my life. I showed my best climbing in the final. It's a special feeling competing in front of a home crowd. I was happy just to be in the final and the crowd helped me win the silver medal.« Luka Potočar finished the lead climbing season fourth overall. Sebastian Halenke (GER) won bronze at the Kranj event.

Domen Škofic and Milan Presker also made the men's final. For Milan, whose previous best result was 18th in Chamonix earlier this year, this was the first-ever World Cup final. Domen Škofic narrowly missed a medal and finished fourth.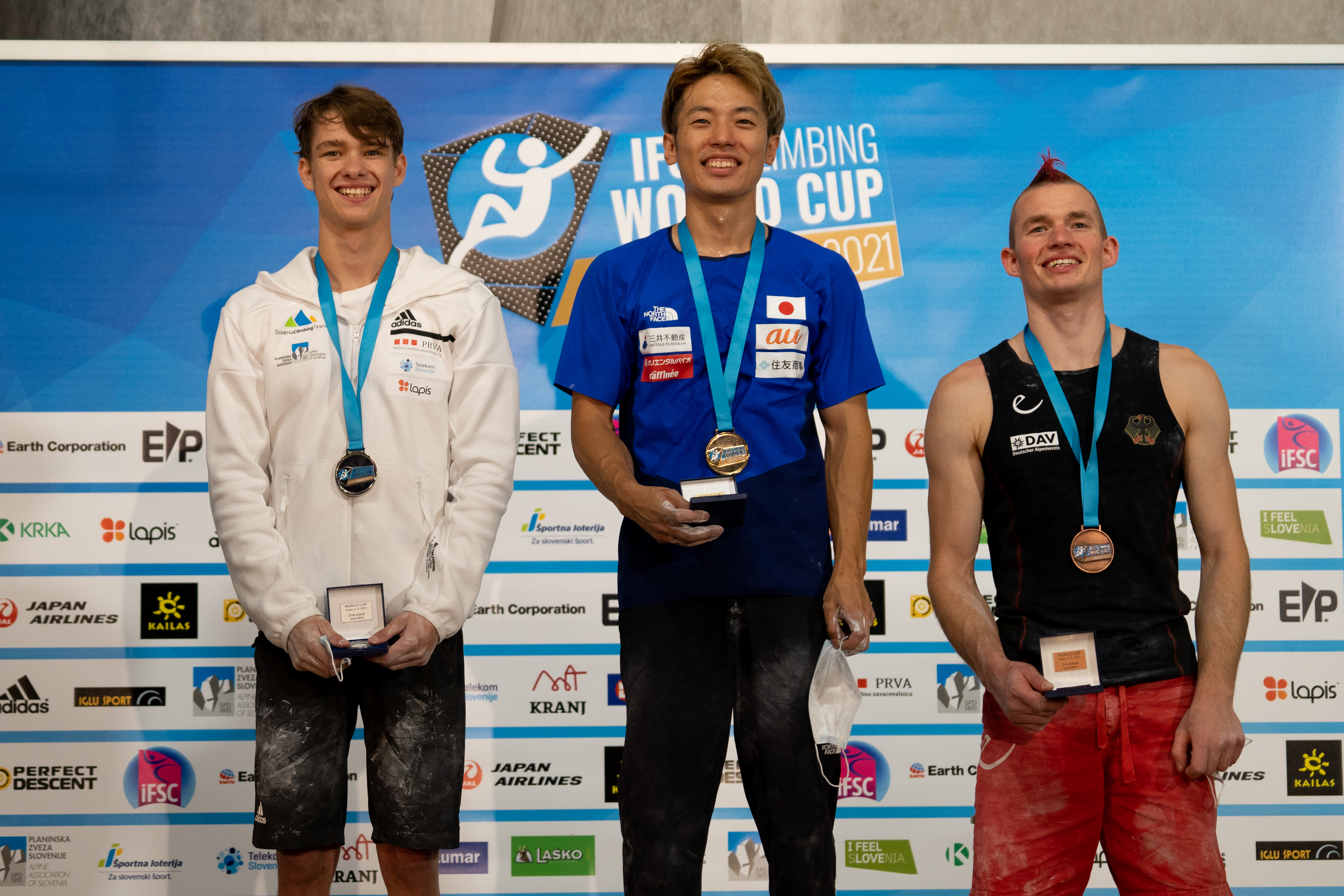 »From the semi-finals on, where we had ten Slovenian climbers, this has been an incredible competition. To have six finalists is unbelievable. Milan Preskar climbed extremely well to finally make it into the finals after being part of the Slovenia Climbing Team for quite a while now. Huge congratulations to Luka Potočar for winning silver at his home event. Too bad that Domen didn't win a medal as well, especially since he missed it by the tiniest of margins. What can I say about our girls? Everyone knows they're unbelievable. Janja won gold, Vita and Lučka were close to the podium. Today's results give us a lot of confidence for the Moscow World Championships taking place from 16th to 21st September,« added Luka Fonda, Slovenia Climbing Team coach.
One of Slovenia's semi-finalists was also
Mia Krampl
, who finished ninth, narrowly missing out on the finals.
Lana Skušek
was tenth and 16-year-old
Sara Čopar
, this year's lead and combined youth world champion, who competed in Kranj for the first time, finished 23rd.
Lucija Tarkuš
, who won silver in lead, bronze in boulder, and another silver in combined in this year's Youth World Championships, finished the Kranj lead event in 25th place. Slovenia had another four climbers in the qualifications.
Tjaša Slemenšek
was 27th,
Liza Novak
30th, and
Katja Debevec
31st.
Martin Bergant
also made the men's semi-final where he finished 9th.
Anže Peharc
was 28th,
Andrej Polak
31st,
Timotej Ramšak
46th, and
Žiga Zajc
48th.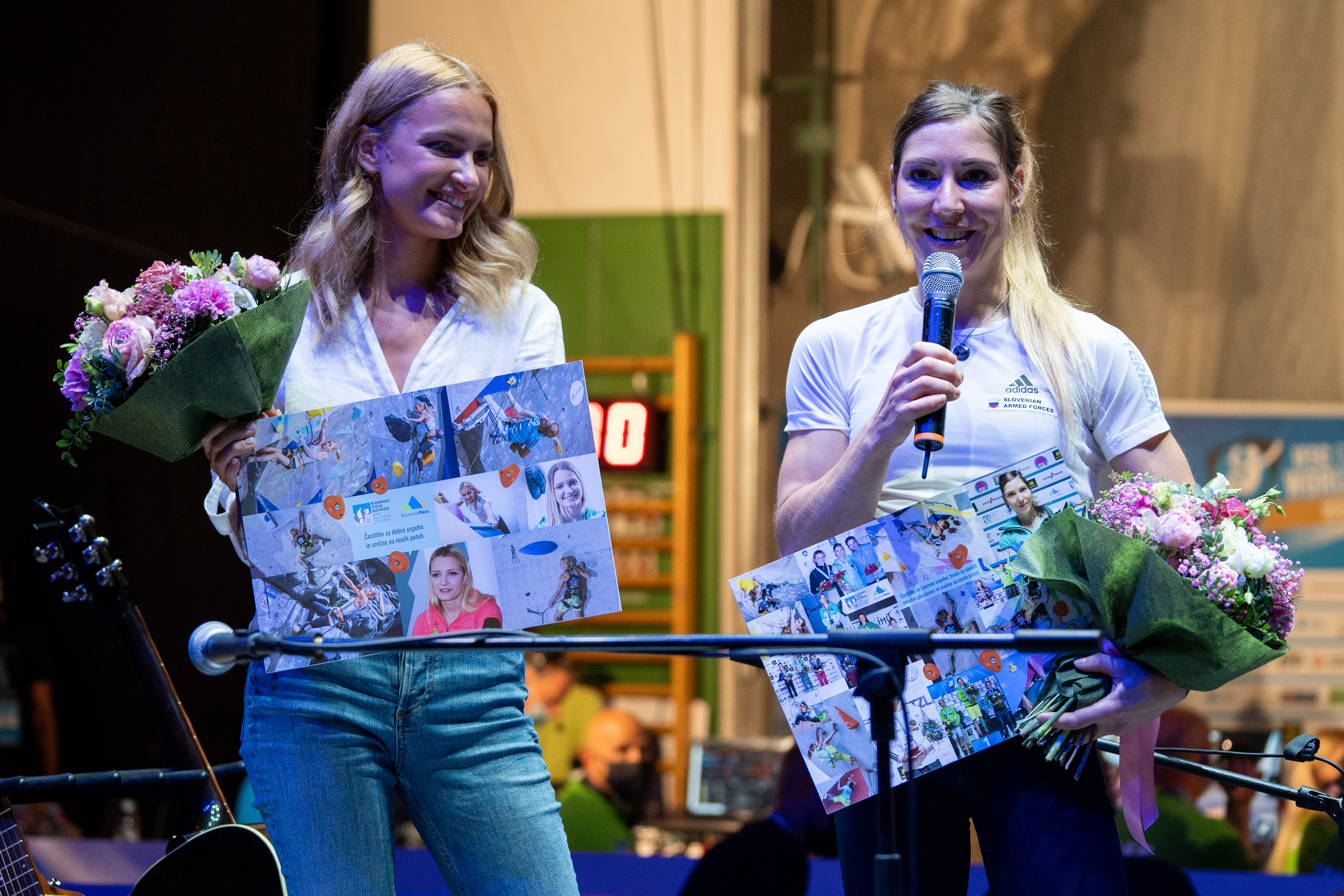 The Kranj competition was the final event in the careers of 33-year-old Mina Markovič and 24-year old Tjaša Primožič, both of whom have decided to retire from competition climbing. Officials of the Alpine Association of Slovenia and Prva osebna zavarovalnica, the general sponsor of the Slovenian national climbing team, thanked them for their incredible careers, which have been an inspiration for countless young climbers.
The Alpine Association of Slovenia is committed to continue hosting Wold Cup events in Slovenia.
Photo: Urban Urbanc