Janja Garnbret takes gold combined at IFSC World Championships 2018
Slovenian climber Janja Garnbret has won the first ever combined event at a World Climbing Championships, an indication that she will be among the top contenders when the event has its Olympic debut in Tokyo in 2020.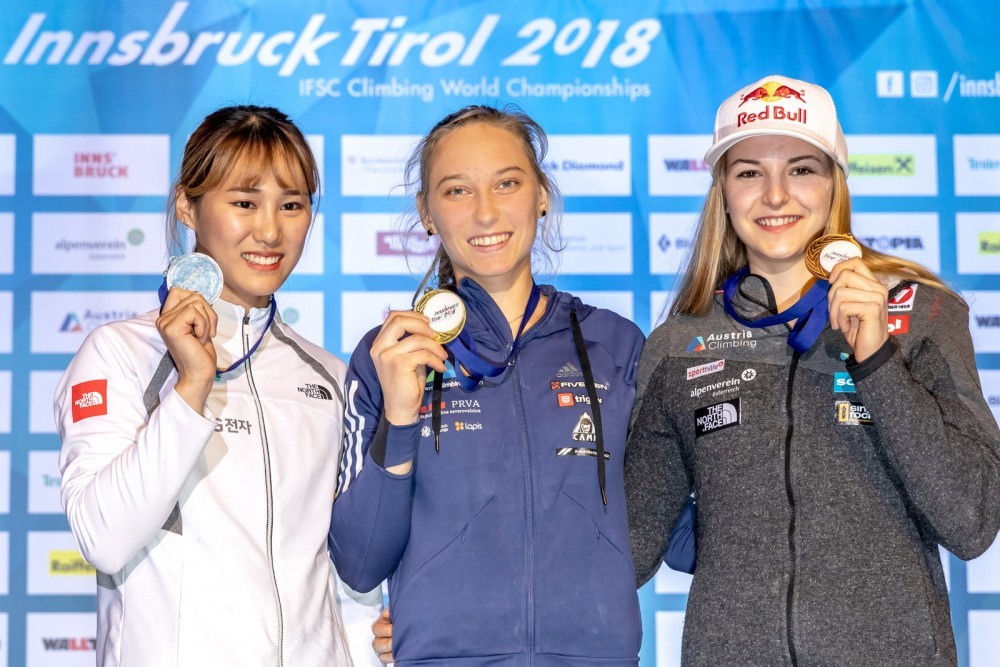 Sol Sa, Janja Garnbret and Jessica Pilz (photo credit: Luka Fonda)
A combination of lead, speed and bouldering, the combined saw Janja Garnbret win the event on Sunday ahead of the South Korean Sa Sol and Jessica Pilz of Austria to add to her already impressive tally of bouldering gold and lead silver in Innsbruck.
The win not only makes the 19-year-old the most successful competitor of this World Championships, she has also become the only climber in history, male or female, to win world champion titles in three events, having already won the lead title in Paris two years ago.
"I did not expect this gold. I was not preparing much for the combined ... I had no idea it would turn out the way it did today," Garnbret said, adding that her focus had been on bouldering, an event in which she had not won at a World Championship before.
"It has turned out that I am the most versatile competitor. It means a lot to me and it bodes really well for Tokyo," she noted.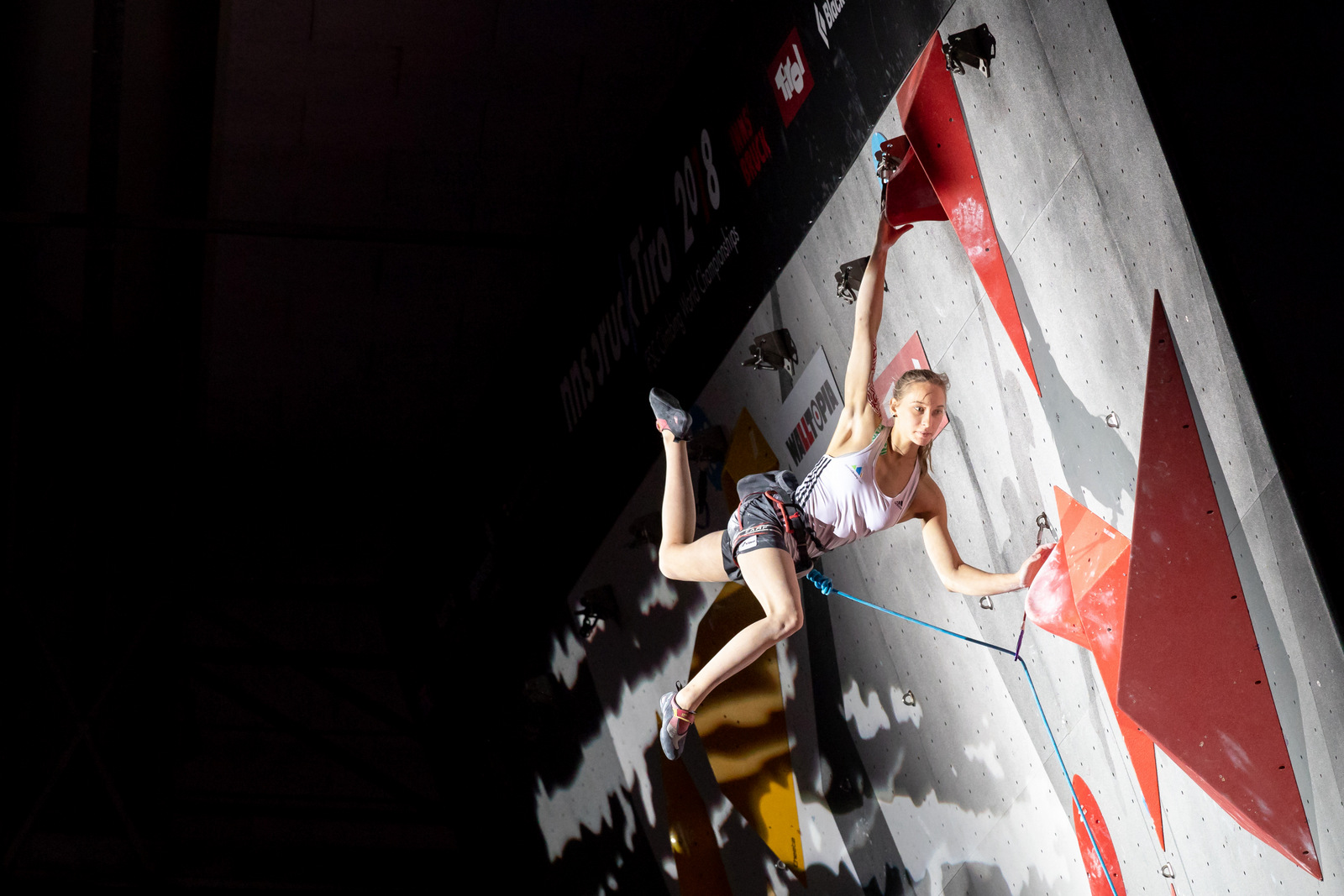 Janja Garnbret takes gold combined and bouldering and silver in lead at IFSC World Championships Innsbruck 2018 (photo credit: Luka Fonda)
The women and men's Combined finals went in the order of Speed, Bouldering, Lead. Athletes were ranked in each discipline, and places were multiplied for the Combined finals results. Six women finalists faced-off in head-to-head bracket-style elimination as they did in Speed on Thursday, starting at the quarterfinal, only this time the athlete with the fastest losing time (lucky loser) advanced to the semi-final as well. Miho Nonaka (JPN) bested Jessica Pilz of Austria in the first race, but Pilz's quick time sent her to the semi-final alongside winners Petra Klingler (SUI) and Sol Sa (KOR), who eliminated Garnbret from contention. Nonaka miscued early in the next race and Pilz capitalised to advance by one half second, and Sa executed to best Klingler. Klingler placed 3rd after a false start from Nonaka in the small final, and Sa took an early lead by racing past Pilz in the big final with the fastest time of the round (9.273 seconds).
The finalists were given four minutes to attempt four problems in Bouldering, with scores being decided by tops, then zone points, top attempts and zone point attempts. Multiple athletes scored zone points and continued upward for tops on the technical first problem (W1), but Garnbret did so in fewer attempts. A dynamic second problem opened with a double-dyno, and Garnbret flashed for a sizable advantage. W3 required balance to connect multiple slab walks, and Garnbret again topped in the fewest attempts to maintain the lead over Klingler, Akiyo Noguchi (JPN) and Nonaka who completed two tops. Needing only to score the zone point on the fourth and last problem to clinch 1st place in the Bouldering, Garnbret still connected all the powerful moves for four unrivalled tops, but Sa stayed ahead by topping the last problem in the last moments to soar from 5th to 2nd place.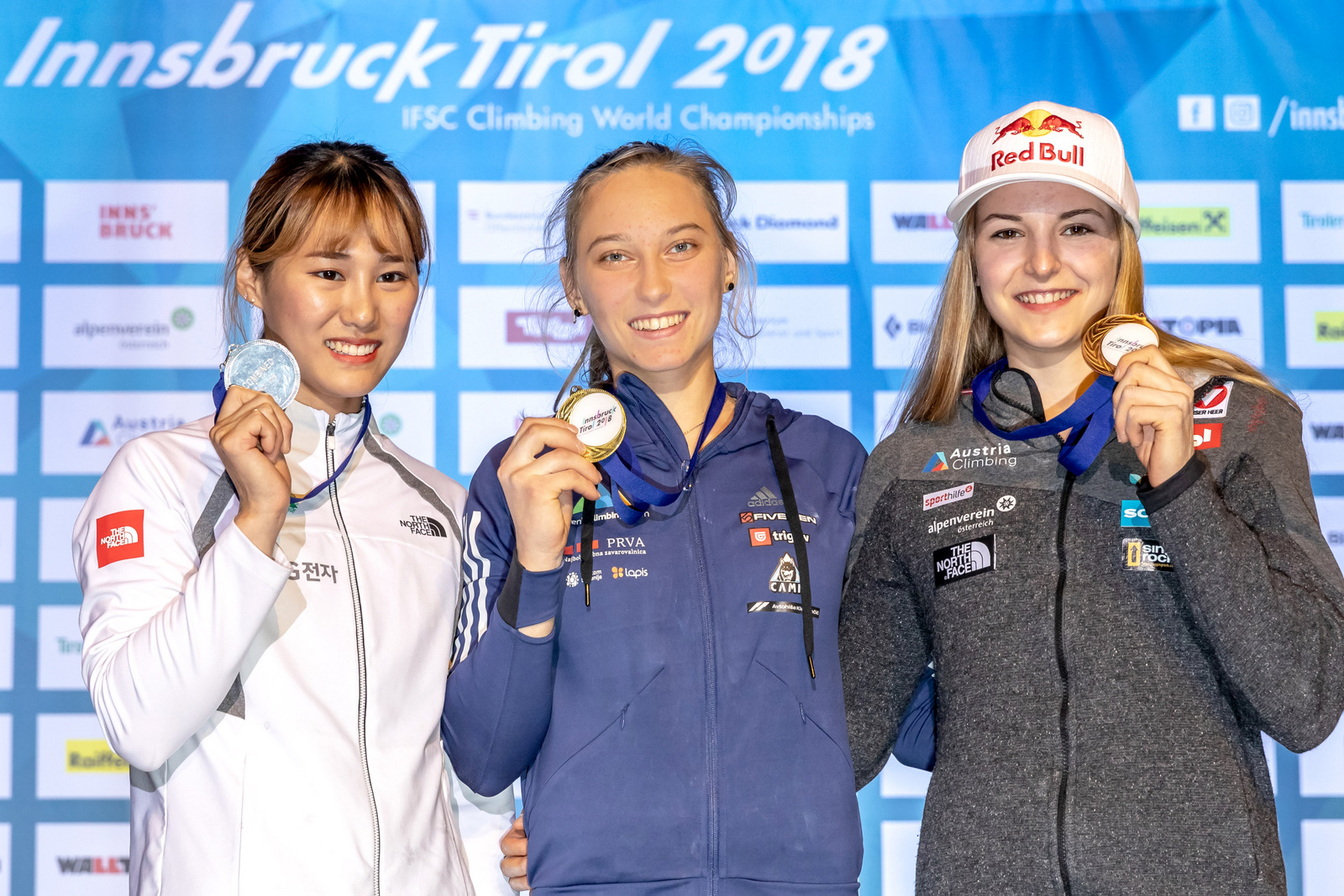 Sol Sa, Janja Garnbret and Jessica Pilz (photo credit: Luka Fonda)

The Combined world title came down to endurance on the towering Lead wall where finalists had six minutes to climb as high as possible, with time breaking ties. Powerful moves led to a jump into the steepest middle section with hard to place feet, ending with dynamic moves and a leap to the top hold. Pilz stuck the exciting move to the finishing hold with one minute to go to put the pressure on Garnbret and Sa. Garnbret stayed composed and completed a quicker top to become Combined world champion in addition to Bouldering world champion (won on Friday). Sa reached the middle section to place 2nd in the Combined, and Pilz finished 3rd at home in Innsbruck.